Regular price
Sale price
£75.00
Unit price
per
Sale
Sold out
The Thursford Christmas Spectacular is an annual Christmas show held in the village of Thursford, located in Norfolk, England. It is renowned as one of the largest Christmas shows in Europe and attracts visitors from far and wide. Here's some information about the Thursford Christmas Spectacular:
The Show: The Thursford Christmas Spectacular is a dazzling extravaganza that combines singing, dancing, music, and festive entertainment. The show features a cast of over 100 performers, including dancers, singers, and musicians, who take the audience on a magical journey through a variety of Christmas-themed performances. The production includes elaborate costumes, stunning sets, and impressive choreography, creating a visually stunning and immersive experience.
Musical Performances: The show encompasses a range of musical genres, including popular Christmas songs, classical pieces, festive carols, and show tunes. The performances showcase the talents of the cast members, with solo performances, ensemble numbers, and intricate dance routines. The production is known for its grand-scale musical arrangements and powerful vocal performances.
Festive Atmosphere: The Thursford Christmas Spectacular aims to capture the festive spirit and create a memorable experience for the audience. The venue itself is transformed into a winter wonderland, with twinkling lights, festive decorations, and a joyful ambiance. The show is designed to immerse the audience in the magic of Christmas, providing a heartwarming and joyful celebration of the holiday season.
Tickets and Booking: Due to the popularity of the Thursford Christmas Spectacular, tickets tend to sell out quickly. It is advisable to book tickets well in advance to secure your desired date and seating. Tickets can be purchased through the official Thursford Christmas Spectacular website or by contacting the box office directly.
The Thursford Christmas Spectacular is a highly regarded and beloved Christmas tradition in Norfolk, offering a festive and magical experience for all ages.
View full details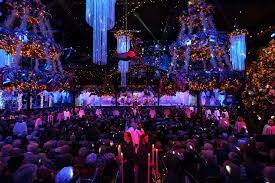 Collapsible content
Pick Up Route

Location
Pick Up Codes
A
B
C
D
Stowupland, Reeds Way
07:51
09:00
09:21
10:00
Stowupland, Thorney Green Bus Shelter
07:53
09:02
09:23
10:02
Stowupland, Allotments
07:55
09:04
09:25
10:05
Tesco Estate, Mortimer Road/New Bridge
07:57
09:06
09:27
10:07
Combs, Melford Road Bus Shelter
08:02
09:12
09:32
10:12
Combs, Lavenham Way Bus Shelter
08:04
09:14
09:34
10:14
Combs Cracknells Chip Shop
08:06
09:16
09:36
10:16
Stowmarket, Ipswich Road, Lockington Road
08:09
09:19
09:39
10:19
Stowmarket, Argos Bus Stop
08:11
09:21
09:41
10:21
Stowmarket, Air Cadet Hall
08:15
09:25
09:45
10:25
Stowmarket, Thirmere Drive Bus Shlter
08:20
09:30
09:50
10:30
Stowmarket, windermere Road Opp Hall
08:25
09:35
09:55
10:35
Stowmarket, St Edmunds Road
08:27
09:37
09:57
10:37
Pick Up Express

Location
Pick Up Codes
Express 1
Express 2
Express 3
Express 4
Bury Bus Station, Bay 9
07:30
08:00
08:30
09:00
Woolpit, Petrol Station
07:50
08:20
08:10
08:40
Elmswell, Wetherden Road Bus Stop
07:55
08:25
08:05
08:35
Wetherden, Crossroads
07:58
08:28
08:04
08:34
Haughley, East of England Co-op
08:03
08:33
07:57
08:27:
Stowmarket Town FC Bus Stop, Bury Road
08:08
08:38
07:52
08:22
Stowmarket Train Station
08:12
08:42
07:48
08:18
Stowmarket, Ipswich Street Lockington Road
08:15
08:45
07:45
08:15
Combs, Esso Bus Stop
08:16
08:46
Combs, Cracknells Fish Shop
07:44
08:14
Combs, Lavenham Way
08:18
08:48
07:42
08:12
Needham Market, Gipsy Lane
08:25
08:55
07:35
08:05
Needham Market, Church Bus Stop
08:27
08:57
07:33
08:03
Needham Market, The Swan
08:30
09:00
07:30
08:00
Refunds

Non ticketed excursions are non refundable if cancelled within 7 days prior to trip date.

To cover the costings of the ticketed excursions, if cancelled with 7 days prior to trip date, only transport costs are only refundable. The ticket price is non refundable from booking.

All cancellations must notify is in writing to excursions@danscoachtravel.co.uk